Be a Flamingo Swig 12oz Combo Cooler Pink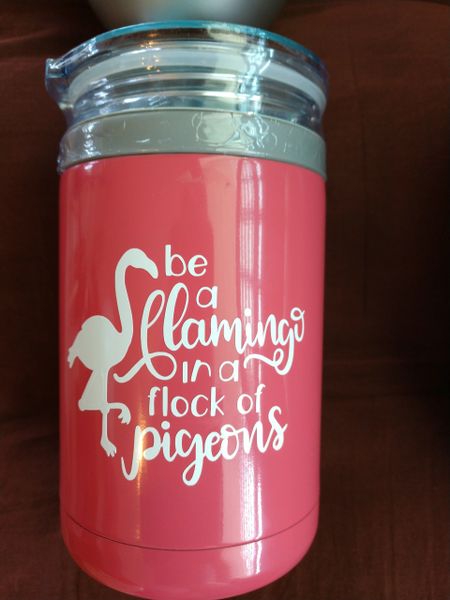 Be a Flamingo Swig 12oz Combo Cooler Pink
This is a decorated brand new Swig combo cooler.  It will accommodate cans, bottles or can be a thermal cup.  Design is permanent, as long as the cup does not go in the dish washer.  Design can be put on to other color and style cups!
Swig describes the combo cooler in the following manner:
Take a Swig with these 12oz Pink Combo Coolers! Swig Life™ Vacuum Insulated tumblers will keep beverages ice cold while enjoying the game with friends or at the beach on a hot sunny day. These Combo Coolers can be used multiple ways. Use the slide-closure lid to turn it into a cup, or secure any can or bottle with the twist-on holder to keep your hands dry and your drinks cold!
• Color: Mint
• Cold up to 12 hours and hot up to 9
• 304 Grade - 18/8 Stainless Steel
• BPA Free, Twist-On Splashproof Lid and Plastic Grey Holder
• Triple Insulated Vacuum-Sealed Technology
• Holds 12oz and fits most cans or glass bottles
Reviews